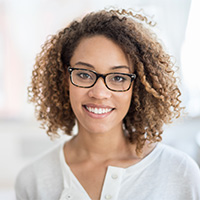 'Online education is still on the rise and more and more people are using the internet to attend both college and general education. Teaching remotely via webcam is still a relatively new concept and takes time to get used to for those who have never done it before. Do you want to know how you can prepare for online teaching? Then read this blog.'
Hannah Stevens
| Communication Officer
How do you prepare for online teaching?
According to statistics, the shift to online education has grown significantly in the past five years. With 2 main reasons: easy access and flexibility to learn when you want. This growth opens new possibilities, for example for career development for employees. Switching from classroom teaching to online teaching is undoubtedly a huge change, but with a little research and practice, you too can get the flexibility and easy access your students or staff are looking for. Here are some tips to prepare for online teaching.
This is exactly where our e-learning platform can help you achieve that. A good e-learning platform has become important and popular in the world, regardless of industry or niche.
Plan your lessons
Your employee or students are not physically in front of you during an online lesson. In fact, they'll probably never all be online at the same time, and may be in a completely different time zone or commu- nicate in different languages. Gone are the days when your class starts at exactly 9:00 AM. Planning is essential for an online classroom environment. Virtual employees or students are different and their needs are different from their physical counterparts.
Make sure your study materials are clearly prepared before class starts. The most important thing is to avoid surprises at all costs. Limit your online time to transfer knowledge. A linked e-learning helps to transfer the theory to your employee or students. Make sure you only mention the main points during the online lessons. And answered the questions of your employees or students. The rest they can learn in their own time through an e-learning.
Well-equipped working environment
Working remotely is the next challenge. Without the perfect environment and a lot of self-discipline, working from home can be a nightmare. This can be avoided with a little planning. First set up your own workspace. If possible, this space should only be used for work.
You want this space to be friendly and inviting, but also to encourage productive work behavior. Keep the work environment free from distractions such as television, other family members, or household chores. Natural lighting and an ergonomic chair can go a long way in setting up your ideal work environment. Make sure the working environment radiates your company.
An AcademyLab e-learning can also help you with this. Our e-learning platform is completely designed in your style, we can connect it exactly to your website or internal network environment within your company.
Stimulate conversations and discussion
As said before, online classrooms work differently from traditional classrooms. An online environment can feel distant. After all, as a teacher / trainer you only sit in front of a web camera and your employees and students are on the other side behind their computer or tablet. Initiating and encouraging discussions can create a distance in terms of how your students feel in the classroom. Encourage participation, just like in the classroom.
There are several ways in which you can encourage participation, from discussions to posting lectures. Assigning reading material and monitoring progress. You want your students to be always involved instead of just submitting assignments. Engagement (planned, in-depth discussions, for example) ensures that your staff or students work with the material in ways they wouldn't do on their own. This ensures that your employees or students get more out of their teaching material, more than just a grade and can really develop.
Employees or students can easily study theory and teaching materials with the help of a linked e-learning, then you can interact live in an online lesson environment and delve deeper into questions from students or employees. An e-learning platform perfectly complements an online teaching environment.
Communicate as much as possible
Make sure to schedule your online classes at a set time. Communication is essential in the online classroom environment. Introduce yourself and give your employees or students the opportunity to introduce themselves. Once again the sense of distance can be much greater in an online classroom environment than in a traditional classroom.
Make sure your employees or students know the correct methods and times to contact you. Some staff or students can get nervous if they don't have a teacher in front of them physically. Try to facilitate this by answering questions in time and giving a lot of instruction and feedback.
Motivate employees and students
Everyone learns differently and motivation plays a major role in the learning process. Some staff or students are self-motivated because learning something new is the only motivation they need, but some staff or students may not. Non-compulsory assignments can be skipped by the latter group.
Think of ways to motivate all your staff or students to get the most out of your class. This can be giving extra points for online discussions or optional assignments. Deadlines can also help advance your more unmotivated staff or students. Your goal is to find ways to help these staff or students get the most out of your class without the benefit of a physical presence.
Ask for help and feedback
Your staff or students can provide you with valuable feedback to help move your class forward. Now that education is increasingly online, employees or students have probably already experienced an online classroom. This experience can help them inform you about the positives and negatives of your online classroom. In addition to your employees or students, also contact other online teachers. Education is a kind of 'sharing' and therefore it can be invaluable for the development of you as an online teacher.
Our e-learning platform is already equipped with a feedback module, and you will be informed immediately if an employee or student gives feedback on the platform. But more importantly, feedback on your lesson material. And also if the employee or student needs help, they can approach you via instant messages.
Summarizing
In general, online education is a great opportunity. The potential flexibility is an undeniable advantage. It is a growing market for teachers and therefore a great opportunity for your career development and that of your employees and students. You could have the potential to reach staff or students you would never have met in a physical class.
But beware, online teaching is not something to just jump in, let one of my colleagues advise you. But it really isn't as daring as it seems. Do your research, make a plan, make the leap and contact us. Online teaching is relatively new, so there is really no set way to do it.
Do you want more information about our e-learning platform?
Complete the form below and we will contact you as soon as possible.
Thank you for your message, we will contact you as soon as possible!